As many of you may know, Craft-E-Family was founded in 1980 by my parents, Lloyd & Joyce Ebert. Upon retirement (pause for laughter) they decided to combine their hobbies. Dad has always loved tinkering and building in the workshop while mom took up painting on, what else, wood.  A decade ago they decided to retire . . . AGAIN (man I'm really beginning to feel old). They requested that my hubby, Cory and I, Karry, take over the monster they created so long ago, thus to Mooresville we moved, with our newly adopted daughter, LeeLoo. (this was in 2005)
Side note . . . dad officially retired from helping out in the shop about 5 years ago, mom officially retired from painting for us this past summer when she got back into sewing and got 2 rowdy puppies to take care of.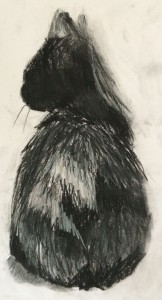 LeeLoo helps out during the summer and wants to take over as the artist.
This charcoal drawing was my Christmas present this year from her!