Let's be honest. There's a reason dad's closet is filled with Santa Claus ties, shamrock ties, World's Greatest Dad ties, pink ties, blue ties…. You see where we're going with this. Dad is hard to buy for. I mean – is buying dad a hammer a bit like buying mom a vacuum? Is that Dremel the equivalent to buying mom a blender? It's true that some moms cook or clean as a hobby and some dads actually enjoy woodworking. However, sometimes – those are just "go-to gifts."
We wanted to do a little something for you to get the creative juices flowing. Dads are special and they have such important roles in our lives. For many, daddies are often our first loves and our forever heroes. Having said that, shouldn't we really put some thought into this year's Father's Day gift? We think yes.
Did you know that the inaugural Father's Day was in 1910 and it was to honor a single-father of six…. Yes, S-I-X children. We often hear of life as a single mother, but there are certainly dads out there that are baring the load of single parent as well. To all of those dads: You, my friends, are rock stars.
When buying gifts for dad, there really isn't a one size fits all solution. Some dads are very family-centric, but work forces him to be a road warrior. What's a gift that can quickly remind him of his family on the road?
Some dads are great at fixing stuff around the house, but they are always in trouble because they're missing mom's birthday or their anniversary. Uh oh! How about you save him the pain of the silent treatment in the future? Our countdown blocks are the perfect gift to make sure he never misses another important date.
Some dads love the outdoors! Why not plan a fishing trip with him? Nothing you could purchase him would amount to 8 hours of peace and conversation as you come up with stories about "the one that got away." Oh – we know… it really WAS a 12 pounder.
Our dads are individuals. Their interests are as varied as the grains of sand on the beach. One gift would never suit each and every dad. With that being said, we wanted to give you some ideas. Maybe these gifts are what you'll purchase – maybe it sparks another idea.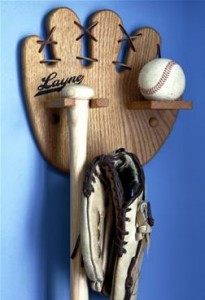 On our Pinterest page, we have noticed our Personalized Baseball, Bat and Glove rack has been pinned over and over again to go in to "man caves" and we think that's a great idea. If you're looking to go all out, send hubby or dad on a weekend get-away. Turn a corner of the basement or even the WHOLE basement into a permanent place for him to escape. Don't have a basement, but have an extra room? That will work too. Trust us, this is the ultimate dad gift.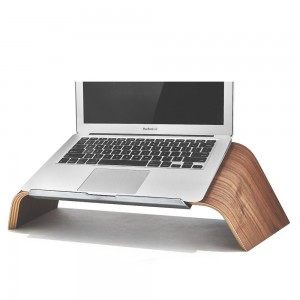 For some dads – particularly entrepreneurial dads – his hobby is his work. It seems like he's always in his office. For him, work isn't work because it's something he created. He loves the time he spends in his office because his business is his work of art. Make the time in his office even more enjoyable with the products at Grovemade. Their laptop and monitor stands are incredibly sleek and we know he'll love them.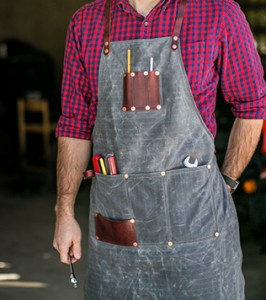 Is your dad a biker (of the motorized sort) or would he like to be? We certainly aren't suggesting that everyone has the money to drop on a new motorcycle, but it may be an option for some of you. If this is up dad's alley, we'd like to recommend that you take a peek at Janus American Motorcycles. Janus motorcycles are hand-built in the USA and their products are insanely beautiful. For dads that are more shop and less bike inclined, Janus also has a leather and canvas shop. Here you'll find quality, handmade worker's aprons as well as moto-rucksacks.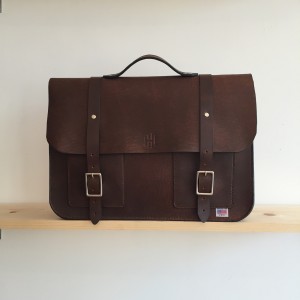 Maybe your dad appreciates the finer things in life. What could be better than a genuine handmade leather collection? At Howl & Hide, you can walk away with a full leather collection. Handmade belt? Check. Wallet? Check. Has dad been in the market for a messenger or portfolio bag? You haven't seen craftsmanship like this before.
Whether you choose one of our suggested gifts or if you come up with something on your own, we hope you truly put some thought into dad's gift this year. Gifts of time and thought can literally cost you nothing, but will let him know you care and appreciate is many sacrifices. Happy Father's Day, all you awesome dads!
Until next time… Keep it Craft-E!
Oh… and if you're wondering where to get that I <3 Daddy frame in the image above, just click
—->here<—-