As I mentioned in the last newsletter, spring brings lots of adorable babies. But if we're being honest, they also come with a lot of extra stuff that takes a lot of extra room. They need cribs, diapers, toys – the list just keeps going. We have found during our time of making baby blocks, that the gifts are most often returned by the post office within the first 3 months of the little one arriving since people tend to move houses to make room for the extras. Even we moved 6 months after LeeLoo came home with us. With all of this in mind, we feel that something special is needed to commemorate the family's new abode. By tweaking a couple of our products, we have come up with the perfect housewarming gifts. And let's face it: after the baby comes, mom and dad lose a lot of the attention.
The first product we tweaked was the family name coaster. Now, you can order it with the family name in the center and the address around the edges rather than the names of the family members.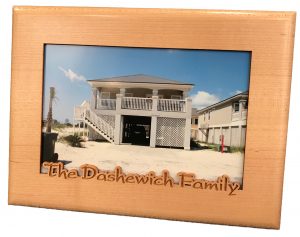 We also have the bubble frame. With this, you can have the name of the family put on the front, then sneak over to snap a picture of the new house so you have a picture to put in it! Imagine how elated they will be when they see the amount of thought and work you put into what could have been a simple gift.
The last product we have is actually a block design that a customer had us create. On the top, the family's initial is encircled by their new address. The front has their family name along with the first name of each member listed below it. The next side has a compass rose with the GPS coordinates of the house, (a cool website to use for obtaining coordinates is notated on the order form).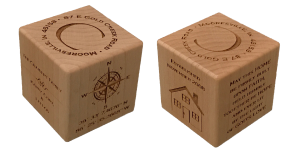 On the third side, the established month and year are printed above a picture of a house, and there is a blessing for the house on the fourth side. Of course, we stuck to our tradition to let you place who it is from on the bottom. This block is probably my favorite, and, being the geeky nerd, I love the incorporation of the coordinates. It's a mathematical secret formula!
Until next time, Keep It Craft E!