With the weather finally starting to be consistently warm, wedding season is in full gear. If you're in a young age group, you might be in a wedding and you might be invited to attend even more. In our years of operating this business, we've heard so many people say that our Wedding Block is a perfect gift for the occasion along with a gift certificate or cash. This block ensures that the information is never forgotten as it is engraved with the full names of the lovely couple, along with the date, time, city, state, and specific location of the wedding. I know – what kind of girl doesn't remember the details of her own wedding! But this is me, and I'm sure there are others out there who also get caught up in the whirlwind of life. After 20 years, it's hard not too! This block helps to keep the couple out of trouble when the anniversaries roll around, and it's a great way for the newly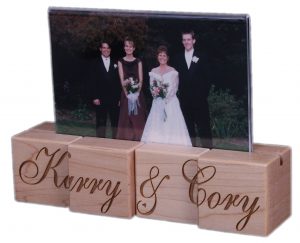 weds to start their new family – and perhaps a family of blocks.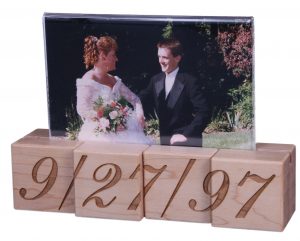 A more personalized way to commemorate the big day is with our 4-block frame. Not only can you have the wedding date and names engraved onto the blocks, but you can also include 2 pictures from the wedding to give a visual reminder of the wonderful day. In addition to this frame, we also sell a wedding frame that has the couple's first names, the year of the wedding, and the last initial. If you are looking for something different, we can create personalized coasters for weddings and for wedding favors! If you just email us with what you're looking for and the quantity, we will give you a quote and artwork to review.  This is a wedding favor one we just did and it's so cute we had to share it 🙂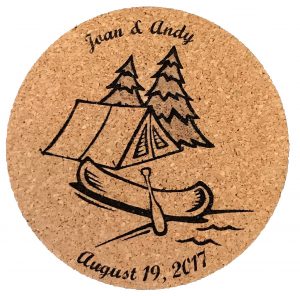 As you may have caught on earlier, Cory and I will be celebrating 20 years this year and so will many of our friends. Because of this, we are already starting to get geared up for the big 25th anniversary and thinking about getting our friends some blocks or milestone coasters to commemorate the fact we've made it this far!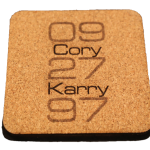 For the couples who have children and are celebrating their anniversary soon, we have the Personalized Anniversary Block that we engrave with the name of the couple, name of the church, name of their children, and the date, time, and location of the wedding. We're thinking some coasters and a good beer or wine will be great presents for our friends – simple but meaningful!
Ano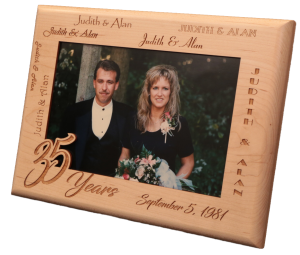 ther product we are getting ready to release is our Anniversary Frame, I worked with a customer last year to develop it and thought it would be a really neat idea with either the wedding picture in it or one from an anniversary party!  Until I have it on the website just e-mail me if you're in need of one! info@craftefamily.com
Until next time, Keep It Craft E!