Perhaps the biggest holiday for my family is our Forever Family Day, which is on June 13th. This year will be our 12th year, and Miss LeeLoo has grown by leaps and bounds. She has already passed me in height as she is now over 5 feet tall, she turned 13 earlier in the year, and she will be starting 8th grade in the fall! She's become such a smart young girl and is quite the artist. This year she made the Junior National Honor Society with a 4.0 GPA and won 1st place in a local art show.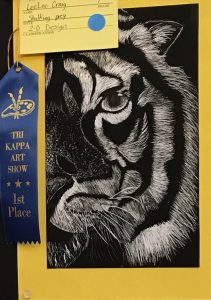 It's crazy to realize how much she has grown right in front of our eyes in these last 12 years. Occasionally I'll look at her adoption block, and it seems like just yesterday we were in China getting ready to meet our daughter. On our adoption block, we include the child's full name, date and location of birth, the names of the parents, and the adoption date. We can also create a personalized Baby Block Picture Frame, which includes a small 2-D block in the bottom right-hand corner of the frame that includes the name, first initial, and birth information of the baby. This way, you can have a picture of the newborn right beside all of his or her information!
Of course, we cannot forget to celebrate the dads! Father's Day (June 18th this year) is the day when we celebrate dear old Dad and all he has done for us. My dad taught me many things over the years, such as how to catch and clean fish, how to build things here in the workshop, and how to get out of mowing grass – just mow down Mom's flowers every spring and you're done for the summer! As LeeLoo grows up, I love watching how she and Cory interact. He has been helping her with math, helping her build her new kitten a "poopy palace," and teaching her to mow grass. I'm just dreading the teaching her to drive a car! Usually for Father's Day, Cory is happy with some craft beer, but once she starts driving it will probably be bumped up to a keg of craft beer! But for now, we'll stick with some bottles and coasters.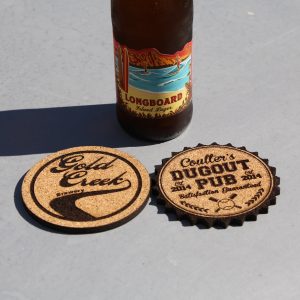 Cory has actually made custom coasters that say Gold Creek Brewery on them, as he has high hopes to one day have his own brewery. As for our customers, we have done quite a few custom coasters around Father's Day for man caves. Just e-mail us at info@craftefamily.com to start your custom coasters! In our book, custom coasters always get brownie points. However, if you already have numerous coasters lying around the house, we can make Father's Day frames, including the 4-block frame we mentioned for Mother's Day!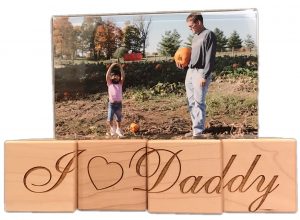 Just find a couple pictures that captures great memories of dad with the kid(s) and create the frame. No matter what you pick, Dad will be one happy man on Father's Day when he sees how much he is appreciated.
Until next time, Keep It Craft E!